A Tribute - Who was Toby Wells?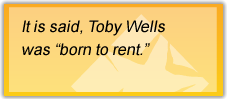 Our family devoted much of our time and energy to the three generation family-owned business, Contractors Equipment Company, always striving to surpass competitors in customer service and business development. At age three, Toby, the third generation, started going to work with his Dad, yet his love for sports and excitement continually tugged at his and our family's demanding schedules. We followed his lead, thank heavens, as Toby taught us to explore and enjoy special times at the desert, fishing and various water sports. Toby helped us carve out beautiful memories now indelibly imprinted in our minds.
His love to cook and entertain provided the venue to openly display his affection, as Toby loved to laugh and have fun. However, this courageous leader wasn't afraid to speak up and take a chance. He truly cared and inspired others. His dynamic energy placed him in a prominent position at an early age in our family business, as he headed up operations for over two hundred employees at our once twelve locations throughout Southern California. Toby's incredible work ethic coupled with his business savvy helped us to scale the mountain of business success, and when the opportunity arose, Toby's knowledge and hard work was critical to the eventual sale of our company.
Because of his compassion and love for animals, Toby frequently rescued many dogs from eventual death in animal shelters by putting them to work at different locations as company watchdogs. He felt it wasn't as perfect as family life, but it beat the alternative these dogs faced. Many of these tough canines lived to be quite old and grew to be companions of employees. They were well cared for, and burial services were even held when they passed away. Toby carried his concern for animal respect and justice to the end.
Toby was unselfishly devoted to his family and friends. His caring loyalty is honored and revered by the many who were fortunate to know him. Toby's spirit remains an inspiration for us to follow. We are honored by the opportunity to have shared our journey with this incredible young man as we do our best to further promote his spirit and gift of life by continuing to make differences he recognized as so important to the community.
Here's to one of the remarkable few that not only transformed the destiny of many beings during his life but also continues to do so in passing. Here's to Toby Wells.